Town of Altona Celebrates Canada Day!!
Join us at the Altona Centennial Park on July 1, 2023 for a community celebration, featuring live music, good food, and family fun!
1:30 – 9:00 pm: Free Public Swimming at the Altona Aquatic Centre

4:00 – 10:30 pm: Food Trucks

4:00 – 7:00 pm: Free Inflatables and Cotton Candy

4:00 – 5:00 pm: Chalk Drawing Contest

4:00 - 6:00 pm: Free Canada Day Glitter Tattoos

4:00 – 8:00 pm: Prancing Pony Petting Zoo

5:00 – 8:00 pm: Free Kiddie Carnival

6:30 pm: Free Watermelon & Rollkuchen

7:30 pm: Free Canada Day Cupcakes

8:00 pm: Opening Ceremonies

8:15 pm: Live Band – Alterlimitz

9:15 pm: Manitoba Sunflower Queen Quest Introductions

9:30 pm: Live Band – BK & The Bad Habits

10:30 pm: Closing Remarks

10:30 pm: Fireworks (At Dusk/Weather Dependent)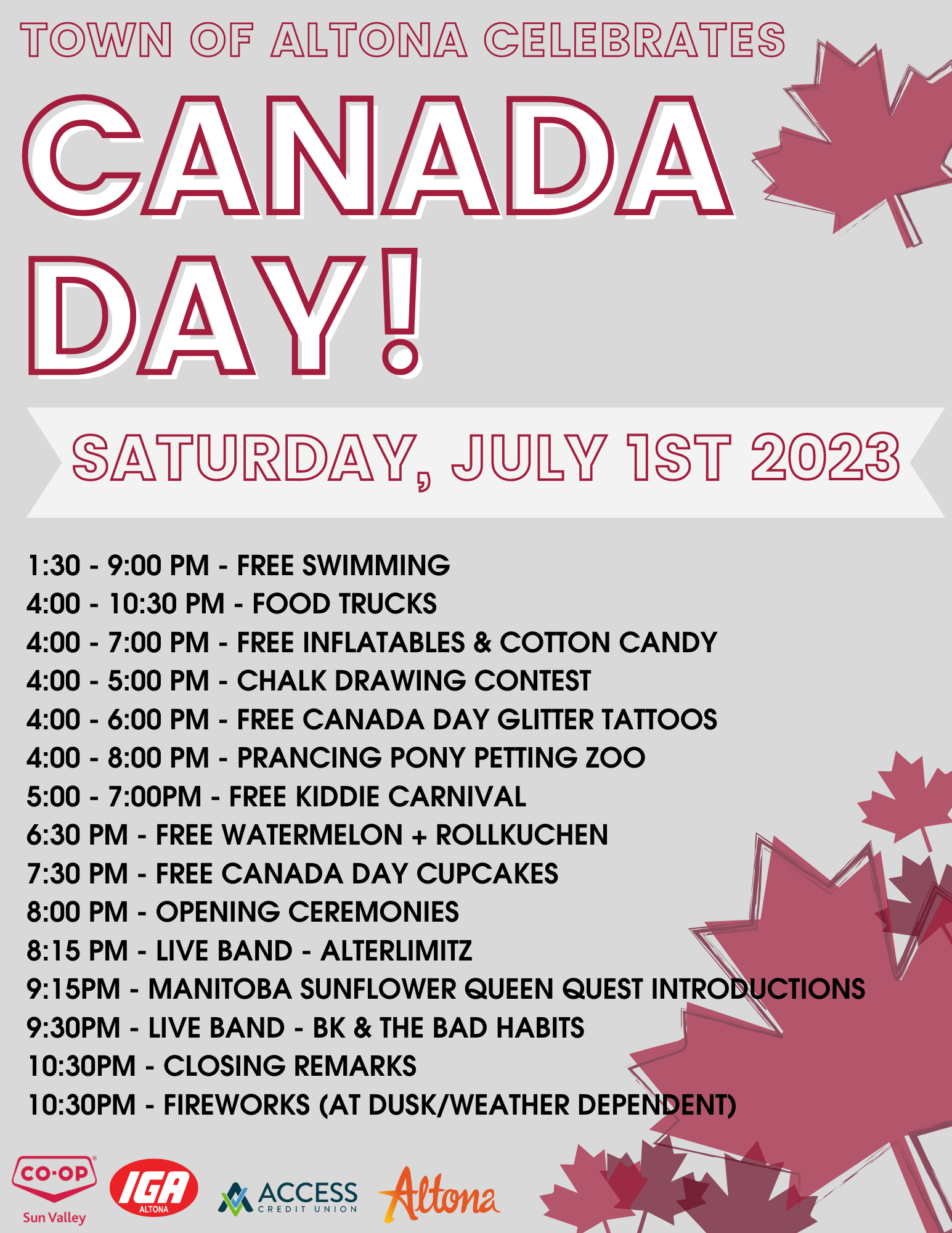 ---
Things to do for Canada Day: Reflect and Learn
Listen to and learn about the stories of Indigenous Peoples in Canada:
This animated web series written by Anishinaabe Elder Dr. David Courchene, directed by Indigenous filmmaker, Erica Daniels of Peguis First Nation, and created by Manitoba's Peg City Pictures Inc. tells the stories of Indigenous Peoples in their own voices.

Learn about the Residential School System first-hand from Residential School Survivors, Elders, Knowledge Keepers, artists and leaders from nations across the country through this educational video program hosted by the National Centre for Truth and Reconciliation in September of 2020. https://nctr.ca/education/every-child-matters/

Read the reports from the Truth and Reconciliation Commission of Canada.

Reflect on the impact of residential schools on Canada's history, and what we can do to continue working towards reconciliation.